We are all able bodies.
From sensory deprivation to sensory augmentation.
Workshop & Seminar - Institute of Technology, Faculty of Architecture, San Pablo CEU University, Madrid/Spain.
Friday and Saturday 16th-17th November 2018, Madrid, Spain

We are all able bodies - From sensory deprivation to sensory augmentation
A trans-disciplinary workshop/seminar organised in a partnership between the Institute of Technology Faculty of Architecture, San Pablo CEU University Madrid/ Spain and the School of Architecture, University of Reading/UK, with the support from the International Ambiances Network.
Conference organizers
Dr Mª Auxiliadora Gálvez (EPS
USP-CEU), Dr Carolina Vasilikou (
UoR) & Dr Izabela Wieczorek (UoR)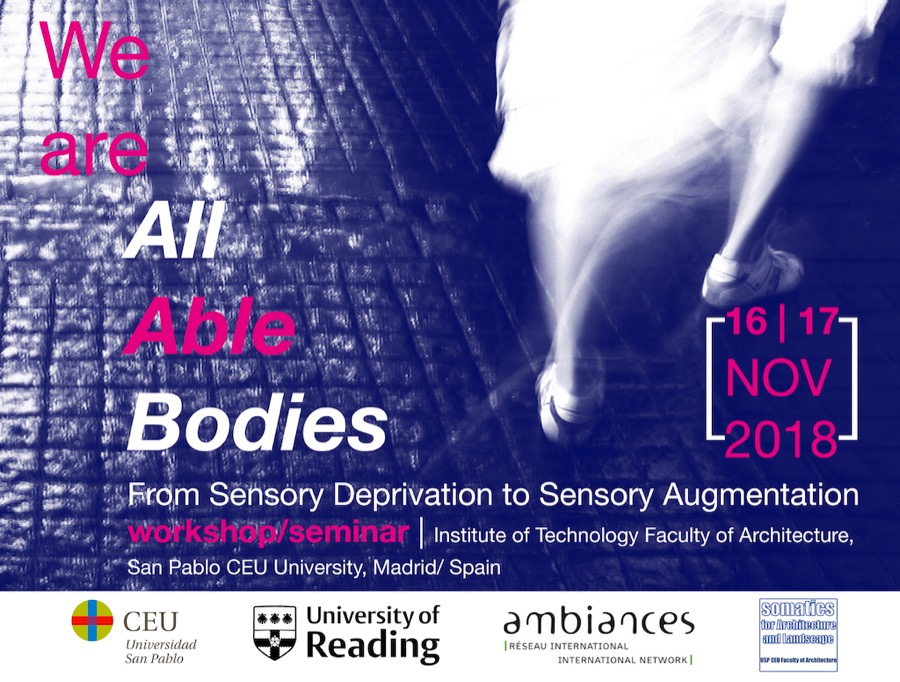 Abstract
By focusing on the intertwinement between sensory perception, affect andaestheticpractices, this two-day workshop/seminar aims to bring into dialogue researchers and practitioners from a wide range of disciplines to re-examine potentials and limitations of bodies experiencing sensory realm.Our research question explores how our bodily abilities can inform design and how design can have either an intensifying or diminishing effect on our sensory abilities. We want to think of sensory perception otherwise, developing new ways of movingtowards the understanding of disability as ableness.In doing so, we want to exchange experiences, skills and knowledge, addressing diverse ways of creating inclusive environments that operate beyond what we can or cannot perceive, providing a possibility for action and interaction for All Bodies.
Keynotes
Phenomenologies of Affect / Threshold Choreographies | Susan Kozel, Professor, K3/ School of Art and Culture Malmö University.
This keynote explores the threshold between sensory perception and affective sensibility, contributing to a deeper understanding of somatic materialism by way of a practical and methodological elaboration of phenomenology of affect.
Listening to the Body| Jone San Martín, Dancer and choreographer
Using the knowledge that is archived on her body after years of working and developing im-provisation techniques, Jone San Martín will give herself tasks that she will solve during a performative lecture. The lecture will not be approached from a demonstrative point of view, but from the fragile and ephemeral condition of the improvised dance.
Day 1 | Friday, November 16th
09:00-09:30 Registration
09:30-09:45 Welcome & Opening Address
09:45-10:45 Keynote Address 1
10:45-11:00 Coffee Break11:00-13:30 Panel Session 1


13:30-14:30 Lunch Break14:30-17:00 Panel Session 2
17:00-17:30 Ambiance Network Address
17:30-19:00 Discussion and Drinks21:00-22:30 Dinner (optional)

Day 2 | Saturday, November 17th
09:00-09:15 Registration
09:15-10:15 Keynote Address 2
10:15-10:30 Coffee Break
10:30-13:00 Workshop
13:00-14:00 Plenary Discussion & Close