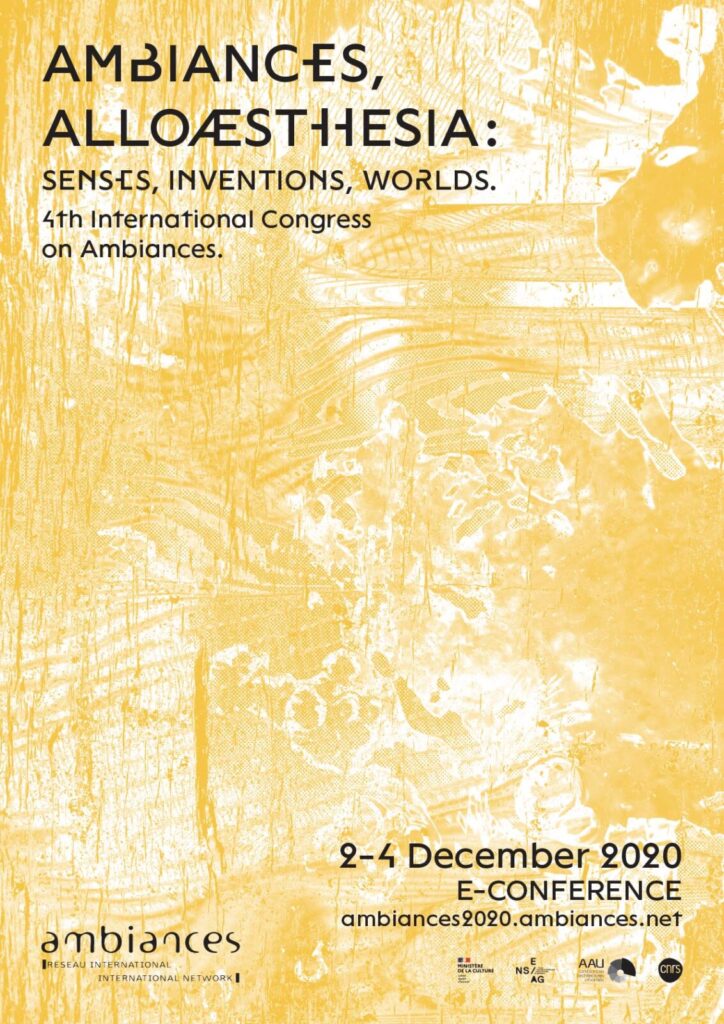 After the Congresses of Grenoble (Creating an Atmosphere, 2008), Montreal (Ambiances in Action, 2012) and Volos (Ambiances, Tomorrow: The Future of Ambiances, 2016), this 4th International Ambiances Network Congress, entitled « Ambiances, Alloaesthesia: Senses, Inventions, Worlds » questions the renewal of the forms of feeling in a world that is undergoing major changes. It aims to consider how the contemporary environmental, social, technological, political and ethical changes are likely to affect the sensitive worlds, their ambiances, and the ways of experiencing them.
This conference brings together more than a hundred scientific contributions coming from an international base of academics, practitioners, artists and PhD students working on ambiances and atmospheres. They offer an up-to-date account of the variety of themes and issues within this field, showcasing the latest research and methodological approaches. Organized in sixteen themed sessions, the presentations examine the ongoing preoccupations, debates, theories, politics and practices of this field, drawing on multidisciplinary expertise from areas as diverse as anthropology, architecture, computer science, cultural studies, design, engineering, geography, musicology, psychology, sociology, urban studies and so on.
4th International Ambiances Congress Website: http://ambiances2020.ambiances.net/
The congress is organized by the International Ambiances Network, Scientific and Thematic Network of the French Ministry of Culture.
This initiative is funded by:
Bureau of Architectural, Urban and Landscape Research at the French Ministry of Culture,
Grenoble School of Architecture,
AAU "Ambiances, Architectures, Urbanités", Joint research unit between CNRS (French National Centre for Scientific Research), Grenoble School of Architecture, Nantes School of Architecture, Centrale Nantes,
Partners:
CY Cergy Paris University,
University of Thessaly
General Chair
Damien Masson
General Secretary
Nicolas Remy
Publishing Secretary of Proceedings
Chloé Pestel
Webmaster
George Kalaouzis
Organization Committee
Françoise Acquier (AAU), David Argoud (AAU), Suzel Balez (AAU), Stéphane Di Chiaro (AAU), George Kalaouzis (UTH), Marcos Novak (MAT, UCSB), Chloe Pestel (CYU), Sophie Provost (AAU), Nicolas Remy (UTH), Daniel Siret (AAU), Rachel Thomas (AAU), Nicolas Tixier (AAU), Jean-Paul Thibaud (AAU).
Scientific Committee
Peter ADEY, Royal Holloway University of London, UK
Pascal AMPHOUX, AAU Laboratory, Cresson, France
Niels ALBERTSEN Aarhus School of Architecture, Denmark
Amal ABU DAYA, AAU Laboratory, Cresson, France
Suzel BALEZ, AAU Laboratory, Cresson, France
Olivier BALAŸ, AAU Laboratory, Cresson, France
Alia BEN AYED, ENAU (National School of Architecture and Urbanism), ERA Laboratory, Tunisia
Emeline BAILLY, CSTB, France
Vassilis BOURDAKIS, University of Thessaly at Volos, Greece
Jose-Luis CARLES, Universidad Autonoma de Madrid, Spain
Budhaditya CHATTOPADHYAY, Center for Arts and Humanities, American University of Beirut, Lebanon
Grégoire CHELKOFF, AAU Laboratory, Cresson, France
Edith CHEZEL, Pacte Laboratory, Université Grenoble Alpes, France
Laurent DEVISME, AAU Laboratory, Crenau, France
Cristiane Rose DUARTE, Universidade Federal do Rio de Janeiro – UFRJ, Brasil
Nick DUNN, Institute for the Contemporary Arts, University of Lancaster, UK
Tonino GRIFFERO, Universita Tor Vergata, Italy
David HOWES, Center for Sensory Studies, Concordia University, Canada
Andrea JELIC, Aalborg University, Denmark
Sylvie LAROCHE, AAU Laboratory, Cresson, France
Thomas LEDUC, AAU Laboratory, Crenau, France
Laurent LESCOP, AAU Laboratory, Crenau, France
Philippe LIVENEAU, AAU Laboratory, Cresson, France
Théa MANOLA, AAU Laboratory, Cresson, France
Damien MASSON, CY Cergy Paris University, France
Olfa MEZIOU, ENAU (National School of Architecture and Urbanism), ERA Laboratory, Tunisia
Marcos NOVAK, Media Arts and Technology, University of California, Santa Barbara, USA
Cristina PALMESE, Paisajesensorial Office-Lab
Spiros PAPADOPOULOS, University of Thessaly at Volos, Greece
Giorgos PAPKONSTANTINOU, University of Thessaly at Volos, Greece
Evangelia PAXINOU, AAU Laboratory, Greece
Ethel PINHEIRO, Universidade Federal do Rio de Janeiro – UFRJ, Brasil
Nicolas REMY, University of Thessaly at Volos, Greece
Ignacio REQUENA, AAU Laboratory, Crenau, France
Myriam SERVIERES, AAU Laboratory, Crenau, France
Paul SIMPSON, University of Plymouth, UK
Daniel SIRET, AAU Laboratory, Crenau, France
Aleksandar STANIČIĆ, TU Delft, Netherlands
Shanti SUMARTOJO, Monash University, Australia
Jean-Paul THIBAUD, AAU Laboratory, Cresson, France
Rachel THOMAS, AAU Laboratory, Cresson, France
Vincent TOURRE, AAU Laboratory, Crenau, France
Nicolas TIXIER, AAU Laboratory, Cresson, France
Aris TSANGRASSOULIS, University of Thessaly at Volos, Greece
Martin WELTON, Queen Mary University of London, UK
Izabella WIECZOREK, University of Reading, UK
Penelope WOODS, Queen Mary University of London, UK
Le 4e Congrès du réseau international ambiances a pour objectif de fédérer une large communauté de scientifiques, académiques, praticien.ne.s, artistes et étudiant.e.s travaillant sur, avec ou par les ambiances. La mobilisation de ce tryptique, souligne la diversité des formes de mobilisation de la notion d'ambiance qui interroge le monde sensible autant comme : sujet de recherche, catégorie d'analyse, et dispositif d'action.
La thématique des ambiances architecturales et urbaines continue son déploiement depuis plus de quatre décennies, et les interrogations qui y sont associées se renouvellent sans cesse. La vitalité de l'ambiance comme objet d'étude et comme champ de recherche et de pratique, est notamment sensible à travers l'essor continu du réseau international ambiances qui compte désormais plus d'un millier de membres, répartis sur tous les continents, et appartenant à des champs disciplinaires allant de l'architecture et l'urbanisme, aux sciences sociales, en passant par les sciences de l'ingénieur et les arts et humanités.
Après les Congrès de Grenoble (Faire une ambiance, 2008), de Montréal (Ambiances en actes, 2012) et de Volos (Ambiances, demain : le futur des ambiances, 2016), ce 4e Congrès met l'accent sur le renouvellement des formes du sentir dans un monde traversé par de forts changements. Intitulé « Ambiances autres: Sens, Inventions, Mondes », ce Congrès se donne pour enjeu de penser comment les mutations environnementales, sociales, technologiques, politiques et éthiques, que connait le monde contemporain, sont susceptibles d'affecter les mondes sensibles ? Comment interrogent elles la recherche sur les ambiances, tant aux plans épistémologiques, théoriques, méthodologiques que pratiques ? Ces interrogations se déclinent notamment selon les axes thématiques suivants :
Nouvelles sensibilisations
Une des marques du temps présent, à l'échelle planétaire, est la multiplication des urgences : environnementales (comme le réchauffement climatique, les atteintes massives à la biosphère, etc.), politiques et sociales (comme en témoignent la montée des conflits, l'émergence de la « société de vigilance », etc.) lesquelles sont véhiculées de façon massive et quasiment incontournable par les médias et les réseaux sociaux et contribuent ensemble à redéfinir les paysages de la vie ordinaire. De quelle manière cette situation caractérisée par diverses menaces et angoisses associées renouvelle nos modes d'attention, de présence, et d'action dans le monde ? Comment ces attentions redéfinissent les sensibilités, en ce qu'elles renvoient à ce à quoi je suis sensible (ce qui me touche) et à comment nous devenons sensibles à (comment suis-je touché) ? De quelle manière nos expériences sensibles se reconfigurent dans ces nouveaux univers d'incertitude ? Comment ces derniers se cristallisent-ils dans de nouveaux modes de conception et de gestion des espaces ? Et comment ces modes circulent-ils, et sont-ils communiqués ?
Sensorialités humaines et non-humaines :
Comment dans un monde plus que jamais affecté par les actions humaines, désignable en certaines circonstances en tant qu'Anthropocène, peut-on interroger les pressions résultantes de l'évolution de l'environnement sensible sur le sensorium non-humain ? De quelle manière des approches écologiques et éthologiques, peuvent-elles, via des observations sur le vivant non-humain mettre en question des évolutions potentielles des sensorialités humaines ? Comment, par extension réinterrogent-elles la notion d'ambiance ? Et en miroir, comment la notion d'ambiance, et les approches constituées notamment en termes d'ambiances architecturales et urbaines, ou en termes d'affective atmospheres sont-elles susceptibles de mettre en question des disciplines qui interrogent le sensible, l'action, les interactions entre corps et environnement, suivant d'autres référentiels épistémologiques, et d'autres traditions méthodologiques ?
Sensibilités artificielles et étendues :
De quelles manières le développement des technologies permettant la consultation et à la représentation (notamment par la visualisation, par l'auralisation etc.) de très larges volumes d'informations contribue à altérer (notamment par la restriction ou par l'étendue) notre potentiel sensible au sein d'un paysage de données ? Comment les espaces mesurés, captés, restitués par les machines, capteurs et algorithmes créent-ils de nouveaux mondes, et de nouveaux univers sensoriels pour les humains ? Comment les altérations physiologiques (temporaires, comme le port de dispositifs de réalité augmentée, ou durables, comme certaines biotechnologies), et prosthétiques (que ces prothèses soient situées à même les corps, ou soient de nouvelles prises et affordances fournies par les espaces) définissent de nouveaux mondes sensibles ? Comment ces environnements débordent-ils dans nos environnements quotidiens ? Quelles ressources fournissent les œuvres de fiction et d'anticipation pour penser ces mutations ? Quelles ressources ou limites ces nouveaux mondes sensoriels fournissent-ils pour l'action ?
Au-delà de ce cadrage général décliné suivant ces trois axes, le Congrès du réseau international ambiances se donne pour objectif d'être représentatif de la diversité, notamment thématique et disciplinaire, des travaux les plus contemporains sur les ambiances. Plus d'une centaine de communications scientifiques, réparties dans des sessions thématiques (qui seront définies prochainement) sont attendues, ainsi que des installations et posters, des performances et expériences esthétiques, faisant de cette rencontre un moment clef pour la réalisation d'échanges, la diffusion de connaissance, et la fédération d'une communauté internationale de recherche, de pédagogie et de pratique sur les ambiances.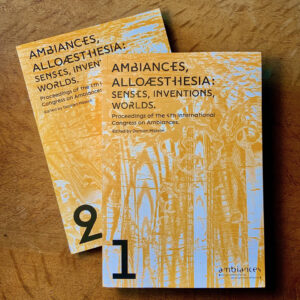 Damien Masson (ed.), Ambiances, Alloæsthesia: Senses, Inventions, Worlds: Proceedings of the 4th International Congress on Ambiances. Réseau International Ambiances, 375 p. (Vol. 1), 370 p. (Vol. 2), 2020, 978-2-9520948-7-0. ⟨hal-03136469⟩
Read the proceeding online: https://hal.science/AMBIANCES2020/